Blond Ambition Tour
---
Tour poster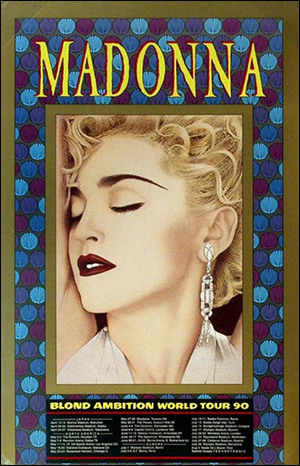 Galleries


Costume designs


Tour pictures


Tour book
Tour schedule
The Blond Ambition was first planned to only visit Japan and North America because Madonna was busy with several movie roles. But considering her popularity in Europe, another tour leg was added. Kicking off in Makuhari, Japan, Madonna played a total of 57 shows in 10 different countries.
→ Check out the full tour schedule here.
Tour setlist
Originally titled the Like A Prayer World Tour, this tour promoted her latest studio albums Like A Prayer and I'm Breathless.
→ Check out the full setlist here.
Tour crew & collaborators
The Blond Ambition Tour was a much bigger production than her previous two tours, which meant a more extended crew. Madonna was joined on stage by backing singers Niki and Donna, as well as 7 dancers, who we all got to know better in the tour documentary Truth Or Dare.
→ Check out the full crew here.
Tour recording

Several Blond Ambition shows were filmed. The recording from Nice was commercially released on Laserdisc, titled 'Blond Ambition World Tour Live'. The release won a Grammy Award for Best Long Form Music Video. Unfortunately it was never converted to DVD format. The best quality footage we now have are the performances that are included in the documentary Truth Or Dare / In Bed With Madonna.
Awards
1990 Pollstar Awards:


Nomination for Major Tour of the Year


Nomination for Most Creative Stage Production


Nomination for Personal Manager Of The Year (Freddy DeMann)
1992 Grammy Awards:


Award for Best Long Form Music Video (Blond Ambition World Tour: Live!)
↑ Back to top of page