A Certain Sacrifice
---
Movie artwork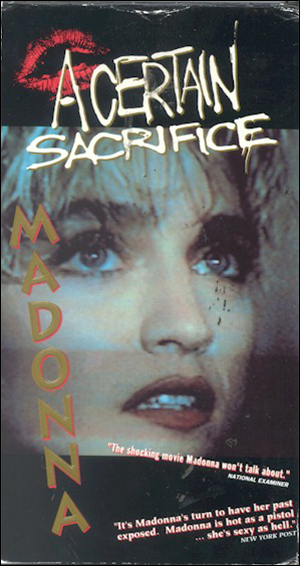 Pictures
Cast

Jeremy Pattnosh: Dashiel


Madonna: Bruna


Charles Kurtz: Raymond Hall


Sarah Magill: Susan Porter


Michael Dane: Transvestite Slave


Russell O. Lome: Male Slave


Joseph Pattnosh: Father


Ann Pattnosh: Mother


John Joseph Pattnosh: Young David


Chuck Varesko: Narrator


Karl Ludwig Selig: Professor Mann


Ed Krakaur: Learning Center Friend


Charles Daguerre Alvaré: Preston Basset


Daniel Merrit Lundquist: Basset's Friend


Brian D. Coleman: Snob with Glasses
Movie info
This was an amateur movie project of Stephen Jon Lewicki, who was a friend of Madonna back when she was living in New York City, before she made it famous. The bizarre movie was made in 1979, but was not released. When Madonna became famous, the director smelled easy money and decided to release it. Madonna tried in vain to stop him. The movie hit theatres in 1985.
Movie synopsis
Daniel/Dashiel runs away from home to escape "normal life". On his way he meets Bruna, a punk drifter, and they find each other in their search for an alternative existence. When Bruna gets molested and raped, she and Dashiel and some friends decide to avenge her. She murders the guy in a bizarre sacrificial ritual which takes place under the Brooklyn Bridge.
Production info

Directed by: Stephen Jon Lewicki


Written by: Stephen Jon Lewicki & Jeremy Pattnosh


Produced by: Adam Fields, Peter Guber, Jon Peters & Stan Weston


Production company: Cine Cine Films


Location: NY (US)


Date of filming: 1979
Release info

Released as: A Certain Sacrifice


Released in theatres: 1985


Released on VHS: July 1, 1992


Runtime: 60 minutes


Genre: Drama/Crime


MPAA rating: Not rated


Soundtrack
Original Music by: Jeremy Pattnosh
There's no official soundtrack. Madonna didn't contribute any songs to this movie.
↑ Back to top of page