Filth And Wisdom
---
Movie artwork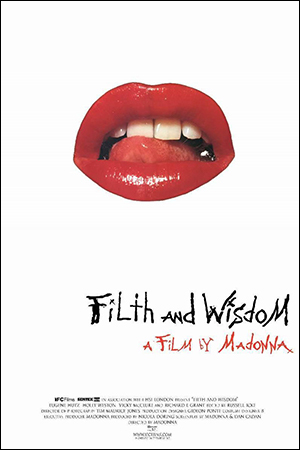 Pictures
Cast

Richard E. Grant: Professor Flynn


Stephen Graham: Harry Beechman


Eugene Hutz: A.K.


Vicky McClure: Juliette


Olegar Fedoro: A.K.'s Father


Ade: DJ


Gogol Bordello: Themselves (also archive footage)


Elena Buda: Ballet Student


Francesca Kingdon: Francine


Clare Wilkie: Chloe


Shobu Kapoor: Sardeep's Wife


Elliot Levey: Benjamin Goldfarb


Tim Wallers: Mr. Frisk


Hannah Walters: Mrs. Goldfarb


Holly Weston: Holly


George Keeler: Frail Man


Inder Manocha: Sardeep
Movie info
This shortfilm was Madonna's first project in the director's chair. For the main role, she cast the lead singer of Gogol Bordello, the band that later played on the Sticky & Sweet Tour.
Movie synopsis
In London, A.K. is a Ukrainian Gypsy, seeking fame as a rocker, doing odd jobs: he's a dom, drives a hack, and runs errands for his neighbor, a poet full of self pity since going blind. A.K's flatmates are Holly, a ballerina who becomes a reluctant stripper in need of coaching, and Juliette, a pill-popping assistant at a pharmacy run by an Indian tired of his marriage. Juliette, estranged from her family, dreams of helping the poor children of Africa; A.K. has a crush on Holly; Juliette's boss lusts after her. Her hapless sister calls from time to time. The poet despairs. Is there a route from filth to wisdom for these souls? Can they find fun and fulfillment? A.K. provides philosophical comment. (source: IMDB)
Production info

Directed by: Madonna


Written by: Dan Cadan


Produced by: Nicola Doring, Madonna


Production company: Exposure/HSI


Location: London (UK)


Date of filming: May 2007 - ?


Budget: £1,000,000 (estimated)
Release info

Released as: Filth and Wisdom


Released in theatres: Sept. 2008 (limited)


Runtime: 45 minutes


Genre: Comedy / Drama / Music / Romance
Soundtrack
There's no official soundtrack. Madonna didn't contribute any songs to this movie.
↑ Back to top of page