Girl 6
---
Movie artwork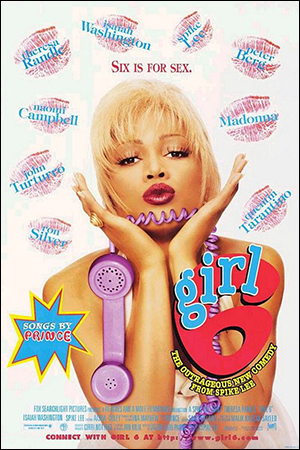 Pictures
Cast

Theresa Randle: Girl 6


Isaiah Washington: Shoplifter


Spike Lee: Jimmy


Jenifer Lewis: Boss #1, Lil


Debi Mazar: Girl #39


Peter Berg: Caller #1, Bob


Michael Imperioli: Scary Caller #30


Dina Pearlman: Girl #19


Maggie Rush: Girl #42


Desi Moreno: Girl #4


Kristen Wilson: Salesgirl #1


K Funk: Salesgirl #2


Debra Wilson: Salesgirl #3


Naomi Campbell: Girl #75


Gretchen Mol: Girl #12


Shari Freels: Girl #29, Punkster


Richard Belzer: Caller #4, Beach


Larry Pine: Caller #33, Wall Street


Coati Mundi: Caller #8, Martin


Delilah Cotto: Caller #8, Christine


Anthony Nocerino: Caller #6


Thomas Jefferson Byrd: Caller #18 (as Thomas Byrd III)


Bray Poor: Caller #14


Joseph Lyle Taylor: Caller #3/Caller # 16


Madonna: Boss #3


Arthur J. Nascarella: Boss #2, Male in Office


John Turturro: Murray the Agent


Quentin Tarantino: Q.T.
Movie synopsis
This Spike Lee film examines the life of an aspiring actress in New York. She is upset by the treatment of women in the movie industry during one of her screen tests with 'QT'. Out of work and desperate for money, she decides to take a job as a phone-sex operator. Here, unlike her previous dealings with potential employers, her (female) boss is kind, caring, and sensitive. Later, she begins to get too engrossed in her work and starts to lose touch with reality, represented by her friend and neighbor, Jimmy. (source: IMDB)
Production info

Directed by: Spike Lee


Written by: Suzan-Lori Parks


Produced by: Jon Kilik, Spike Lee, Cirri Nottage


Production company: 40 Acres & a Mule Filmworks


Locations: LA, NY


Date of filming: June 1995
Release info

Released as: Girl 6


Released in theatres: March 22, 1996 (US)


Released on DVD: Aug. 6, 1996 (US)


Runtime: 108 minutes


Genre: Comedy


MPAA rating: Rated R for explicit sexual dialogue and some nudity.


Box office: $ 4.9 million (US)
Awards
1997 Independent Spirit Awards:


Nomination for 'Best First Screenplay' (Suzan-Lori Parks)
Soundtrack

Original Music by: Prince
The soundtrack doesn't contain any songs by Madonna.
↑ Back to top of page