I'm Going To Tell You A Secret
---
Movie artwork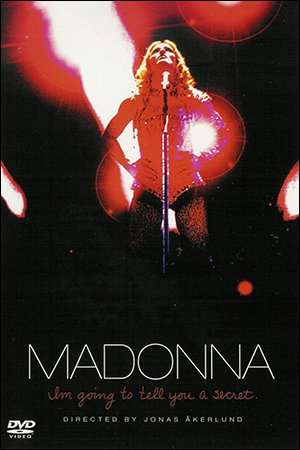 Pictures
Cast

Madonna: as herself


Guy Ritchie: as himself


Lourdes Leon: as herself


Rocco Ritchie: as himself


Daniel -Cloud- Campos: as himself


Reshma Gajjar: as herself


Paul Kirkland: as himself


Tamara Levinson: as herself


Valerie -Raistalla- Moise: as herself


Dawn Noel Pignuola: as herself


Marilyn Ortiz: as herself


SeanAries Smith: as himself


Seth Steward: as himself


Zach Woodlee: as himself


Jason Young: as himself


Sergie Ventura: as himself


Donna DeLory: as herself


Siedah Garrett: as herself


Stuart Price: as himself


Monte Pittman: as himself


Lorne Cousin: as himself


Tony Villanueva: as himself


Angela Becker: as herself


Michael Moore: as himself


Tony Ciccone: as himself
Movie info
A documentary that goes behind the scenes of Madonna's 2004 Re-Invention Tour. It can be seen as the follow-up to Truth or Dare, 14 years later. The backstage scenes are in black & white while the live performances are filmed in colour.
Production info

Working title: Re-Invented Process


Directed by: Jonas Åkerlund


Produced by: Susan Applegate, Angela Becker, Keeley Gould, Shelli Jury


Production company: Maverick Films


Date of filming: May - Sep. 2004
Release info

Released as: I'm Going To Tell You A Secret


Released on DVD: June 20th, 2006 (with bonus live CD)


Runtime: approx. 120 minutes


Genre: documentary
Trivia

The movie premiered commercial-free on MTV USA on Oct. 21, 2005. It was released as a CD/DVD in June 2006.
Soundtrack
There is no soundtrack for this movie. However, many Madonna songs appear during the movie (mostly instrumentals).
The live performances from the Re-Invention Tour are: The Beast Within (opening credits), Vogue, American Life, Mother And Father, Nobody Knows Me, Music, Hollywood, Lament, Like A Prayer, Holiday, Imagine.

The DVD release of the documentary has a bonus audio CD featuring live tracks from the Re-Invention Tour. Read more about this live album in our discography.
↑ Back to top of page