Swept Away
---
Movie artwork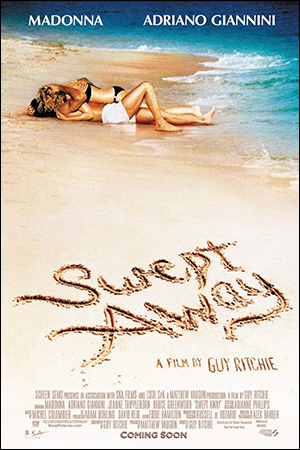 Pictures
Cast

Madonna: Amber Leighton


Adriano Giannini: Giuseppe Esposito


Jeanne Tripplehorn: Marina


Michael Beattie: Todd


Elizabeth Banks: Debi


Bruce Greenwood: Tony Leighton


David Thornton: Michael


Yorgo Voyagis: Captain


Lorenzo Ciompi: Rich Man


Shavawn Marie Gordon: Shop Assistant


Beatrice Luzzi: Rich Lady


Francis Pardeilhan: Tony's Assistant


Ricardo Perna: Crew Member


Rosa Pianeta: Receptionist


Andrea Ragatzu: Bell Boy


Patrizio Rispo: Burly Captain


George Yiasoumi: Burly Captain
Movie synopsis
Madonna and Adriano Giannini star in director/screenwriter Guy Ritchie's contemporary adaptation of Lina Wertmuller's 1974 romantic comedy, "Swept Away," a story of love, sex and too much money - allset against the backdrop of a spectacular Mediterranean island paradise. A rich, spoiled socialite (Madonna) and a handsome Italian fisherman (Giannini) find themselves stranded on a deserted islandwhere matters of material wealth and class disparity are meaningless. And in their struggle to survive and coexist in their paradise found, they soon discover that their dramatic differences are suddenly the source of a fierce, passionate and sometimes hilarious animal attraction.
Production info

US working title: Love, Sex, Drugs and Money


Directed by: Guy Ritchie


Original screenplay ('Travolti da un insolito destino nell'azzurro mare d'agosto') written by: Lina Wertmüller


Screenplay adaptation by: Guy Ritchie


Produced by: Adam Bohling; David Reid; Matthew Vaughn


Production company: Ska Films


Locations: Malta and Sardinia


Date of filming: 1 Oct. 2001 - 9 Nov. 2001


Budget: $ 10 million
Release info

Released as: Swept Away


Released in theatres: Oct. 11, 2002 (US); Jan.-May 2003 (Europe)


Released on DVD: Feb. 11, 2003


Runtime: 93 minutes


Genre: Comedy/Drama


MPAA rating: Rated R for language and some sexuality/nudity.


Box office: $ 553,102 (US)


Official site: Swept Away
Trivia

Guancarlo Giannini, father of Adriano, played the role of Guiseppe in the original movie in 1973.
Soundtrack

Original Music by: Michel Colombier
The soundtrack doesn't contain any song by Madonna.
↑ Back to top of page