Vision Quest
---
Album artwork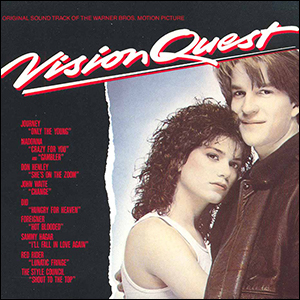 Album tracklist
Journey - Only The Young
John Waite - Change
The Style Council - Shout To The Top
Madonna - Gambler
Don Henley - She's On The Zoom
Dio - Hungry For Heaven
Red Rider - Lunatic Fringe
Sammy Hagar - I'll Fall In Love Again
Foreigner - Hot Blooded
Madonna - Crazy For You
Single releases
Crazy For You - Feb. 1985 (US & Eur.)
Gambler - Oct. 1985 (Eur.)
Outtakes & Demo tracks

Warning Signs
Album info
Madonna made a cameo appearance in the 1985 movie Vision Quest as a nightcub singer. Together with Jellybean, she contributed two songs to the movie soundtrack, Crazy For You and Gambler, both of which were released as a single.
The singles were a huge success, the movie wasn't. At its re-release in Europe, the movie was retitled to 'Crazy For You', after Madonna's #1 hit single.
The Vision Quest soundtrack was released on February 12, 1985 by Geffen Records. It peaked at #11 in the US Billboard chart.
↑ Back to top of page