Confessions On A Dance Floor
---
Album artwork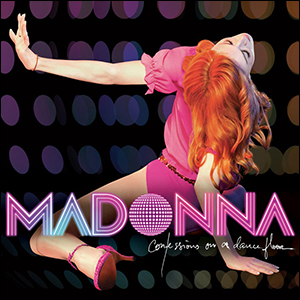 Album cover, shot by Steven Klein
Art work by Giovanni Bianco

Album tracklist
Single releases
Outtakes & Demo tracks

Fighting Spirit


History


I'm In Love With Love


Keep The Trance


Super Pop


Triggering

Album production & release
After working with him on her Drowned World Tour and Re-Invention Tour, Madonna teamed up with Stuart Price (aka Jacques Lu Cont) to produce her album Confessions On A Dance Floor. Pretty soon they knew they wanted to make a full-on dance record. No ballads, no messages, all dance. The result was a sound, described by Stuart as 'future disco' and it's 'where pop meets dance'. The 12 delicious tunes of pure 'unapologetic dance music' are all mixed together as one DJ set. As Madonna said: "I want people to jump out of their seats."
Originally, Madonna planned to make most of the album with Mirwais, but she got a better vibe with Stuart Price. When Hung Up was written, Madonna was convinced to do an all-dance record. She did keep (and rework) two tracks from the Mirwais collaboration though: Future Lovers and Let It Will Be. Brother-in-law Joe Henry, who also wrote the original version for Don't Tell Me, joined the writers team for Jump. Madonna also worked with a lot of Swedes on the album; Swedish duo Bloodshy & Avant worked on How High and Like It Or Not, while Bagge & Peer did the original production of Get Together. Another Swedish nod: for the first single Hung Up, Madonna borrowed a sample from Abba's 'Gimme Gimme Gimme (A Man After Midnight)'. The video for that single is directed by Swedish Johann Renck (see also Nothing Really Matters).
The album was released worldwide on November 14, 2005 (some regions on the 11th, 15th or 16th). On the 15th it also became available on iTunes in both a mixed version (like the disc) and a version with separate tracks. Both versions were also available in a DeLuxe package, including the Hung Up video. ICON members received a bonus track called Super Pop. A limited edition was released on December 13th, 2005, containing a 40 page picture book, 80 page blank journal book, fanclub membership and a bonus track called Fighting Spirit.
Album promotion & Singles
The release of the album and the first single was promoted by a never-seen marketing campaign. Hung Up featured in a commercial for the Motorola ROKR mobile phone (which featured Madonna herself as well) and was later available as ring tone. Madonna signed a deal with iTunes, which made available her entire back catalog. Another deal was made with MTV, who previewed the new material and who also screened the documentary I'm Going To Tell You A Secret. Subsequently, Madonna performed Hung Up live on the 2005 MTV Europe Music Awards in Lisbon. That was the kick-off for a promo tour, including several TV shows and club appearances.
Hung Up immediately became a smash #1 hit all over the world, including Australia, Canada and most of Europe. Follow-up singles were Sorry (which was also a huge hit around the world), Get Together and Jump (with moderate success). The latter has a track as B-single from the recording sessions with Stuart that didn't make the album, called History. Madonna also earned four consecutive #1s on the Hot Dance / Club Play. Confessions On A Dance Floor received a Grammy Award in 2007 for Best Electronic / Dance Album.
For the single cover of Sorry Madonna chose a fan picture for the first time, and she found it on none other than this fansite Mad-Eyes! Read the whole story here and compare the cover picture with the original.
Sales & Charts
The album sold 350,000 copies in its first week in the US and 1,2 million copies worldwide. It reached #1 in 41 countries, including Australia, France, Germany, Italy, Japan, Spain, UK (her 9th #1; certified 4 times Platinum in January 2007) and US (her 6th #1; certified Platinum in December 2005). Worldwide sales already passed 8 million copies.
↑ Back to top of page