Evita
---
Album artwork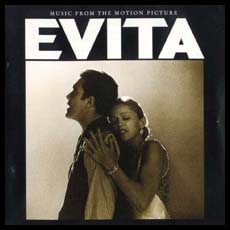 Album cover, shot by David Appleby
Album tracklist
Single-disc Edition:
Double-disc Edition:


* No vocals by Madonna
Single releases
You Must Love Me - Oct. 1996 (US & Eur.)
Don't Cry For Me Argentina - Feb. 1997 (US & Eur.)
Another Suitcase In Another Hall - March 1997 (Eur.)
Album release
In 1996 Madonna finally got the movie role she had been waiting for so long. The production of Evita had been postponed many times and many producers had given up the idea before Alan Parker decided to give it a go. Many famous actresses were considered for the leading role as Eva Peron, including Michelle Pfeiffer and Meryl Streep. Convinced she was the perfect casting, Madonna send Parker a four pages letter argumenting why she would be perfect for the role. She also included a copy of her Take A Bow video, in which she was clearly inspired by Evita's look in the 40s. Obviously she was very convincing because Alan Parker casted Madonna to play Evita, and Antonio Banderas to play Ché.
Nigel Wright, Alan Parker, Andrew Lloyd Webber and David Caddick produced the official soundtrack for Evita. There were two versions: there was the 'highlights' album called "Music from the Motion Picture Evita", containing 19 tracks (see above), which was released in October 1996 in Europe and Asia and in August 1997 in the US.
The second version was a 2 CD set, called "Evita The Motion Picture Music Soundtrack", containing 31 songs (see beneath), which was released worldwide on November 12, 1996. All the songs were originally written for the musical Evita, except You Must Love Me, which was written by Andrew Lloyd Webber and Tim Rice, especially for the movie.
Sales & Charts
In the album charts, the album reached #1 (UK), #2 (US, France, Germany), and #5 (Australia, Canada). It was last certified5 times Platinum in the US in March 1999 for shipments of 2,5 million double albums. Worldwide it sold about 7 million copies.
Awards
Evita, the movie received six nominations at the 1997 Oscar Awards (though Madonna was snubbed for Best Actress) and won in the category 'Best Original Song' for You Must Love Me.
Madonna did get her recognition at the 1997 Golden Globe Awards where she won 'Best Actress', while Evita won 'Best Motion Picture' and You Must Love Me won 'Best Original Song'.
At the 1997 Golden Satellite Awards Evita won 'Best Motion Picture', 'Best Original Song' and 'Best costume design'. Madonna won an Echo Award for 'Best Actress'.
Finally, the soundtrack was nominated for an award at the 1997 Brit Awards and the 1998 American Music Awards, but lost out.
↑ Back to top of page