GHV2
---
Album artwork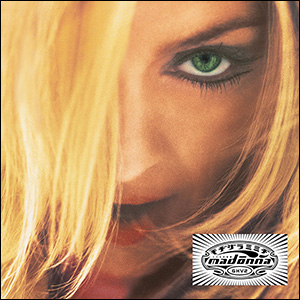 Album cover shot by Regan Cameron.
Art design by Kevin Reagan and Bret Healey.

Album tracklist
Album release
On November 13, 2001 (in some territories on the 9th or the 12th), Madonna released her second greatest hits album, simply called GHV2, short for Greatest Hits Volume 2. While The Immaculate Collection - released exactly 11 years earlier - contained her 80s classics, this album features her biggest hits of the 90s, ranging from 1992's Erotica to 2001's What It Feels Like For A Girl. But unlike its predecessor it doesn't offer any new tracks.
The coverwork doesn't offer much new either; the picture is from a picture shoot for the Drowned World Tour, in November 2000 by Regan Cameron. The logo in the right corner says 'Madonna' and 'GHV2'. The Japanese letters spell out 'Madonna' as well, though the word doesn't have a real significance in Japanese. You can also see the word 'GHV2' in her eye. Kevin Reagan gave the album some extra value with great inside art work.
During the months prior to the release there was a lot of speculation about the tracklisting. Rumour had it that the album would contain two new tracks. For a short while, the titles 'Veronica Electronica' and 'Sex Makes The World Go Round', but these rumours were obviously false, as the first title referred to an abandoned remix project of Madonna and William Orbit, while the latter seems to be a parody of 1986's Love Makes The World Go Round. Later it was said that the new tracks would be live versions of Holiday and Music, but that also was later denied. For a while Amazon displayed different tracklistings for the UK and Japan (including an unknown bonustrack), but this also seemed untrue.
The real tracklisting consisted of two singles from Erotica, four singles from Bedtime Stories, four singles from Ray Of Light, three singles from Music, plus Beautiful Stranger and Don't Cry For Me Argentina. For some tracks the album version was included, for others they used the radio edit; notice the disgraceful butchering of Ray Of Light! To avoid an 'explicit lyrics'-sticker they used a clean version of Human Nature, that cuts out the line 'I'm not your bitch, don't hang your shit on me'.
Some singles were surprisingly left off, like This Used To Be My Playground, I'll Remember, You'll See and You Must Love Me (all of which were certified gold in the US). Or what about Fever, Bad Girl, Rain and more recently Nothing Really Matters? Some, like This Used To Be My Playground, I'll Remember, You'll See and Rain of course did already appear on the ballads collection Something To Remember.
In an interview with BBC's Jo Whiley Madonna said about the selection of the GHV2 tracks: "I only wanted songs that I could listen to 5 times in a row". American Pie was excluded as a 'punishment' because Madonna regretted putting it on the Music album. "It was something a certain record company executive twisted my arm into doing, but it didn't belong on the album so now it's being punished". The original tracklist of GHV2 showed a more random order of the songs and it included You'll See instead of Drowned World/Substitute For Love.
The name was another subject of rumour for a long time. First everyone spoke about 'The Immaculate Collection 2'. Later names as 'Second Coming' and 'Hit Lady' were mentioned. In the end it would just turn out to be 'Greatest Hits Volume 2' or 'GHV2'.
A special edition of GHV2, featuring the same disc but some additional artwork was released in December 2001.
Sales & Charts
In the charts, the album peaked at #2 (UK, France), #3 (Australia, Germany), #7 (US) and #11 (Canada). A month after its release it received Platinum certification for shipments of one million US copies. Worldwide there've been sold around 5 million copies.
GHV2 Megamix

Despite many speculations in advance, there were no singles released from this album. However, there's a Madonna megamix that was brought to clubs and radio to promote the album. There are three versions of this megamix, made by Thunderpuss: the original (4'52), an extended version for the clubs (12'36), and a radio edit (3'30). None of these are commercially released. Thunderpuss mixed Don't Tell Me, Erotica, Secret, Frozen, What It Feels Like For A Girl, Take A Bow, Deeper And Deeper, Music and Ray of Light (in that order). The original version has some spoken words at the beginning of Deeper And Deeper: this was a recorded message used on the (early) Internet to promote Bedtime Stories. On music channels the Thunderpuss megamix was accompanied by a video, compiled of images of live performances and 23 Madonna videos (can you spot them all?).
Thunderpuss wasn't the only remixer that was asked to make a GHV2 megamix. Later, other GHV2 megamixes appeared, among others one from Tracey Young and one called 'the GHV2 Johnny Rocks & Mac Quayle Megamix'.
↑ Back to top of page