Rebel Heart
---
Album artwork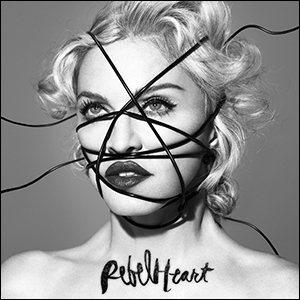 Album cover, shot by Mert & Marcus
Artwork by Giovanni Bianco
Album tracklist
Standard Edition:
Deluxe Edition:
Super Deluxe Edition:
Single releases
Living For Love - Dec. 2014 / Feb. 2015
Ghosttown - March 2015
Bitch I'm Madonna - June 2015
Outtakes & Demo tracks
Among the leaked demo tracks are several songs that didn't make the final tracklist.

Alone With You

Back That Up (Do It)

Freedom

God Is Love

Heaven

Never Let You Go

Nothing Lasts Forever

Queen

Revolution

Score

Take A Day

Take It Back

Tragic Girl

Trust No Bitch

Two Steps Behind Me
Album release
Madonna's 13th studio album Rebel Heart was released worldwide on March 9, 2015 (March 10 for the US market; March 6 for some other markets). On December 20, 2014 the first 6 tracks were made available on iTunes with a pre-order of the full album. The pre-order came days after 13 demo tracks were leaked on the Internet. In an official statement, Madonna commented:
"I was hoping to release my new single Living For Love on Valentine's Day with the rest of the album coming in the Spring. I would prefer my fans to hear completed versions of some of the songs instead of the incomplete tracks that are circulating. Please consider these six songs as an early Christmas gift."
Three more tracks, Hold Tight, Joan Of Arc, and Iconic were released on February 9th, a day after Madonna's Grammy performance. The rest became available on March 9th. The 6 first tracks dominated the iTunes charts in more than 40 countries immediately after their release. The 3 tracks released in February pulled a similar stunt.
The album was released in several different formats:


The Standard Album contains tracks 1 to 14. Available as digital download and CD (1 disc).


The Deluxe Album contains tracks 1 to 19. Available as digital download, CD (1 disc) and Vinyl (double LP).


The Super Deluxe Album contains tracks 1 to 19 and bonus tracks 20 to 25. Available as digital download and CD (2 discs).
There were also several limited editions for specific markets:


France/Belgium: Limited edition of 15,000 copies, only distributed by FNAC, containing the Deluxe version with 19 tracks and a bonus CD with the Thrill Remix and the Offer Nissim Dub Mix of Living For Love.


Germany: Saturn and MediaMarkt sold exclusive editions of both the Standard and the Deluxe album, containing Auto-Tune Baby as bonus track.


Japan: The Deluxe album and the first disc of the Super Deluxe album came with the usual 19 tracks and the Dirty Pop Remix of Living For Love as bonus track.
While a leaked version of the Super Deluxe Album contained the tracks Queen and Auto-Tune Baby, the final tracklist lists two Living For Love remixes to close the album. Auto-Tune Baby only features as bonus on the German edition; Queen disappeared from the official releases.
No less than 6 tracks have received an "explicit" label, which caused for a "parental advisory - explicit content" sticker on all versions of the album. However, there is also a "clean" version of the Standard Album, distributed by iTunes and Walmart.
Album production
This is the longest tracklist ever released on a Madonna studio album. Over the course of several months in 2014, Madonna recorded more than 40 tracks in NY, LA and London with numerous collaborators. The album was produced by Madonna, Diplo, Kanye West, Billboard, Avicii, DJ Dahi and Blood Diamonds, Toby Gad, and Ariel Rechtshaid. 
Alicia Keys is playing piano on Living For Love, while Nicki Minaj is featured on Bitch I'm Madonna. The London Community Gospel Choir can be heard on Messiah. Chance The Rapper & Mike Tyson feature on Iconic, and Nas makes an appearance in Veni Vidi Vici. Strangely, the album booklet doesn't mention any song credits, nor any lyrics, but the credits were added to Madonna.com later on.
Madonna documented many of the recording sessions with a series of pictures and teasers on her Instagram and Facebook accounts. Her hashtags often referred to the song titles and lyrics, such as #rebelheart, #livingforlove and #unapologeticbitch. She made selfies with her producers Diplo and Avicii, posted parts of lyric pages and sheet music, and even a short video teasing of the London Community Gospel Choir recording for Messiah.
Album promotion
For the first time in a decade, Madonna went on a full-on album promo tour, including performances at the Grammy and Brit Awards, appearances and performances on French, Italian and American TV shows, and dozens of interviews and Q&A sessions. She also incorporated new social media, such as Snapchat, Instagram and even Grindr into her promo campaign. During the promo tour, the Rebel Heart Tour was announced and Madonna launched Ghosttown as second single. In June 2015, third and final single Bitch I'm Madonna was released.
Sales & Charts
The album debuted at #1 in several countries, including Australia, Austria, Belgium, Canada, Germany, Italy, Portugal, Spain, Switzerland and The Netherlands. In the UK, the album became #2, with 12,000 copies short to beat Sam Smith. In the US Billboard Album Chart, it also landed at #2 after a tough battle with the soundtrack of the Empire tv show, shifting 121,000 units in its first week (only counting the traditional physical sales, it would've been #1). This debut made the album Madonna's 21st top 10 album in the Billboard Album chart but her first to miss the top spot since Ray Of Light. In its second week, the album tumbled to #21 in the US, #7 in the UK and #2 in Canada.
Ghosttown became Madonna's 45th number 1 single in the Billboard Hot Dance/Club Play, which gave her the distinction of having more number one songs on a single chart than any other artist in history. Bitch I'm Madonna extended that record as the 46th #1.
↑ Back to top of page