Sticky & Sweet Tour
---
Tour poster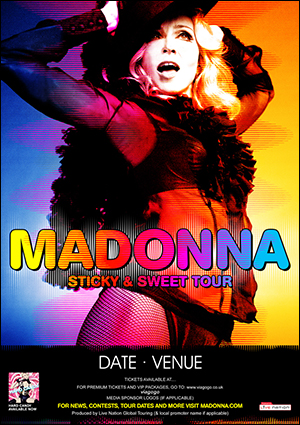 Galleries


Costume designs


Tour book


Tour pictures Europe (2008): Athens - Cardiff - London - Paris


Tour pictures North America: Atlantic City - Houston - Las Vegas - Miami - New York City - Philadelphia


Tour pictures South America: Mexico City - Rio de Janeiro - Sao Paulo


Tour pictures Europe (2009): Barcelona - Budapest - Copenhagen - Gothenburg - Helsinki - London - Madrid - Milan - Munich - Oslo - Prague - Tallinn - Tel Aviv - Warsaw - Werchter - Zaragoza
Tour schedule
The Sticky & Sweet Tour, her first under the 360° deal with Live Nation, kicked off in Cardiff on Aug. 23, 2008. After tour legs in Europe, North America and South America, Madonna announced another tour leg for the summer of 2009 with mostly territories in Europe that she had never visited before. In total, she performed 85 shows in 31 different countries. The tour grossed no less than $ 407,7 million with a sale of more than 3,5 million tickets. It broke the record, previously held by Confessions Tour, for Highest Grossing Tour for a female artist.
→ Check out the full tour schedule here.
Tour setlist
The tour, which was described as a 'rock driven dancetastic journey', promoted her 11th studio album Hard Candy. The title of the tour referred to a lyric from Candy Shop - which opened the show - and the candy theme of the album. For the 2009 tour leg, Madonna replaced a few tracks on the setlist and also included a tribute to Michael Jackson, who passed away a week before the start of the summer tour.
→ Check out the full setlist here.
Tour diary & reviews
Throughout the tour, we kept a tour diary with specific details for each show:
Europe (2008) - North America - South America - Europe (2009)
We also saved some press reviews to give you an idea how the show was received by critics:
Europe (2008) - North America - Europe (2009)
Tour crew & collaborators
While several band members, dancers and collaborators from the Confessions Tour were back on board, Madonna further extended her team of dancers and choreographers. Costumes were designed by Arianne Phillips, Givenchy, Dolce & Gabbana, Jeremy Scott and Tom Ford.
→ Check out the full crew here.
Tour recording

Director Nathan Rissman recorded the shows in Buenos Aires on Dec. 7 & 8, 2008. The show was broadcast on British TV channel Sky1 on July 4th, 2009 and on US channel EPIX in October 2009. On March 30, 2010 'Sticky & Sweet Tour' was released on DVD, combined with a live album on CD. The album reached top 10 in a dozen countries, including #10 in the Billboard 200.
Awards
To date, the Sticky & Sweet Tour ranks as the highest-grossing tour by a female artist, and as the 5th highest-grossing tour of all time. This record is recognised by Guinness World Records.
2009 Billboard Touring Awards:


Award for Top Tour (highest-grossing)


Award for Top Draw (highest-attended)


Award for Top Manager (Guy Oseary)

2008 Pollstar Awards:


Nomination for Major Tour of the Year


Nomination for Most Creative Stage Production
↑ Back to top of page