Bloodhounds Of Broadway
---
Movie artwork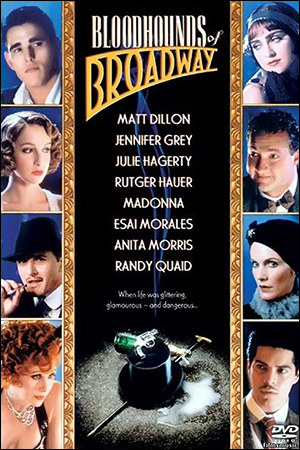 Pictures
Cast

Josef Sommer: Waldo Winchester


Madonna: Hortense Hathaway


Tony Azito: Waiter


Jennifer Grey: Lovey Lou


Tony Longo: Crunch Sweeney


Rutger Hauer: The Brain


Matt Dillon: Regret


Stephen McHattie: Red Henry


Anita Morris: Miss Missouri Martin


Ethan Phillips: Basil Valentine


Alan Ruck: John Wangle


Dinah Manoff: Maud Milligan


David Youse: Busboy


Randy Quaid: Feet Samuels


Julie Hagerty: Harriet MacKyle
Movie synopsis
This film, which incorporates the plots of four Damon Runyon stories, takes place in and around a grand New Year's Eve party in 1928. The guests, many of whose lives intertwine during the evening, include Harriet (Julie Hagerty), the rich society doll throwing the bash; the aptly named Feet Samuels (Randy Quaid), who is about to sell those body parts to a doctor; and Hortense (Madonna), the ballsy, money-hungry showgirl Feet has a crush on. There's also "The Brain" (Rutger Hauer), a mob boss with many girlfriends -- who's walking around with a knife in his stomach; Regret (Matt Dillon), so named for his chronic inability to pick a winning racehorse; and many other colorful characters, all of whom will make this one night to remember. (source: Rotten Tomatoes)
Production info

Directed by: Howard Brookner


Written by: Howard Brookner & Colman deKay


Produced by: Chris Brigham, Howard Brookner, Kevin Dowd, Lindsay Law, Colman deKay


Production company: American Playhouse


Date of filming: Dec. 1987 - '88
Release info

Released as: Bloodhounds Of Broadway


Released in theatres: Nov. 3, 1989 (US)


Released on DVD: May 4, 2004 (US)


Runtime: 93 minutes


Genre: Comedy/Drama


MPAA rating: PG


Box office: $ 44,000
Trivia

Bloodhounds Of Broadway was first supposed to be a TV series, but it was later edited into a movie.


The director Howard Brookner died before the movie was released.
Awards
1989 Golden Raspberry Awards (Razzies):


Nomination for 'Worst Supporting Actress' (Madonna)
Soundtrack
Original Music by: Jonathan Sheffer
The soundtrack doesn't contain any songs by Madonna. In the movie however, Madonna sings a duet with Jennifer Grey, called I Surrender, Dear.
↑ Back to top of page