The story behind the Sorry cover picture
---
Artwork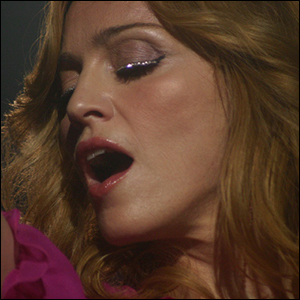 The original picture from the performance at G.A.Y. London,
photographed by Marcin Kokowski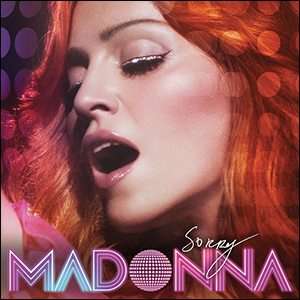 The single cover of Sorry, reworked by Giovanni Bianco
Info
When Madonna performed at the G.A.Y. Club in London on November 19th, 2005 to promote her Confessions On A Dance Floor album, Mad-Eyes webmaster Bart and his photographer friend Marcin attended the show from front row. Marcin made some fantastic shots, which Bart placed on Mad-Eyes for all fans to enjoy. But little did we know what would happen afterwards...
A few weeks later, we were contacted by Johann from the ICON fanclub, who complemented us on the pictures and casually asked if we were interested in selling any of them. Then in December, we received an e-mail from Denise, who presented herself as the assistant of Madonna's manager Guy Oseary and who wrote "We saw the pictures on your website and Madonna likes them a lot!".
It seemed too unreal to believe at first, but when we got an appointment at the manager's office, situated at the ground floor of Madonna's London home, we realized this wasn't just a dream. Madonna's management bought the rights of one picture and said it would be used for marketing purposes.
Later we found out the picture was reworked by none other than Giovanni Bianco, who had coloured her blond hair to red. We couldn't believe our ears when they told us it was going to be the cover picture of the next single, Sorry! This was the first time Madonna used a fan picture from a fansite as a single cover.
↑ Back to top of page