Who's That Girl
---
Album artwork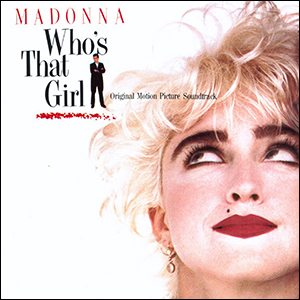 Album cover art by Greg Ladanyi

Album tracklist
Madonna - Who's That Girl
Madonna - Causing A Commotion
Madonna - The Look Of Love
Duncan Faure - 24 Hours
Club Nouveau - Step By Step
Michael Davidson - Turn It Up
Scritti Politti - Best Thing Ever
Madonna - Can't Stop
Coati Mundi - El Coco Loco (So So Bad)
Single releases
Who's That Girl - June 1987 (US) / July 1987 (Eur.)
Causing A Commotion - Aug. 1987 (US) / Sep. 1987 (Eur.)
The Look Of Love - Nov. 1987 (Eur.)
Outtakes & Demo tracks

Possessive Love
Album production & release
In 1986 Madonna accepted the role of Nikki Finn in the movie 'Slammer', directed by James Foley. She was also asked to contribute some songs to the movie soundtrack. During the production the movie title was changed to Who's That Girl, partly because Madonna had difficulty writing a title track named 'Slammer'. 'Who's That Girl' would fit much better to her persona Nikki Finn, as well as to Madonna herself. By this time, Madonna had released three successful albums and had shown the world some different images and styles already, so people started wondering 'Who's That Girl anyway?'.
Madonna recorded two songs with Patrick Leonard and two more with Steve Bray. The album was completed with 5 tracks of other artists. The first three Madonna songs got a single release. The title track reached #1 in the US, UK, Japan and Canada. The follow-up was the dance track Causing A Commotion, which was a Top 5 hit as well. The movie's love theme The Look Of Love was only released in Europe and Japan.
Sales & Charts
Released on July 21, 1987 the album sold almost 5 million copies worldwide, of which 1 million in the US, making it Platinum. On the album charts it peaked at #1 (Germany), #2 (France), #4 (UK), #6 (Canada), and #7 (US).
The single Who's That Girl got a Grammy nomination for Best Song Written Specifically For A Motion Picture.
↑ Back to top of page