The Confessions Tour
---
Album artwork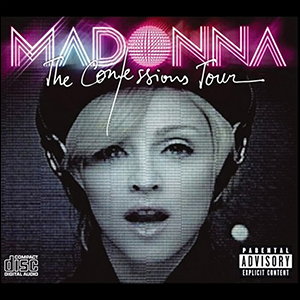 Album cover, shot by Guy Oseary

Album tracklist
Confessions
Album release
Madonna released her second live album The Confessions Tour on January 30, 2007. The live CD is only available as a digipack together with the tour DVD, that chronicles her seventh live trek, Confessions Tour, from the summer of 2006. It was recorded in London on August 15th & 16th.
The CD tracklist focuses mainly on the Confessions On A Dance Floor album with some older classics added. Future Lovers is a medley with the Donna Summer dance hit 'I Feel Love', while Music is mixed with the 1970s disco anthem 'Disco Inferno'. Erotica is a newly-remixed version with lyrics from an unreleased demo (which got known as You Thrill Me). Let It Will Be is the fan-favourite Paper Faces Mix from the promo tour and Madonna gets all political against George Bush in I Love New York. Unfortunately the highlight of the show, Live To Tell is mysteriously left off the CD while its prelude the dancers' confessions is included...
Sales & Charts
The package reached #1 in 20 countries (on either the album or DVD charts, including Australia, Belgium, Hungary, Italy & Spain), peaked at #7 in the UK, #15 in US. It has sold more than 1,000,000 copies worldwide.
↑ Back to top of page