I'm Breathless
---
Album artwork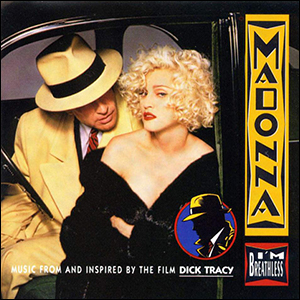 Album cover, shot by Patrick Demarchelier

Album tracklist
Single releases
Vogue - March 1990 (US & Eur.)
Hanky Panky - June 1990 (US) / July 1990 (Eur.)
Outtakes & Demo tracks

Dick Tracy


To Love You
Album info
On May 22, 1990 Madonna released I'm Breathless, a studio album that is often seen as the soundtrack of Dick Tracy. However, only three songs are actually from the movie: More, Sooner Or Later and What Can You Lose, which are written by Stephen Sondheim and produced by Madonna and Bill Bottrell. The other songs are "inspired by" the film Dick Tracy and all written and produced by Madonna and Patrick Leonard.
Since the sound of all the tracks is very similar - all retro cabaret-jazz with an ironic twist - it's a very conceptual album. The only song that breaks with this concept is Vogue, which doesn't really belong on the album. It was released as a single two months before the release of I'm Breathless and was added to the album at the last moment because of its huge success. In June Hanky Panky was released as a single, but it was destined to stay in the shadow of its predecessor Vogue.
Sales & Charts
It probably was Vogue as well that boasted album sales to 2 million US copies (double Platinum) and 5 million copies worldwide. In the album charts it climbed to #1 (Australia, Germany, Japan), #2 (UK, US, Canada), and #3 (France).
↑ Back to top of page