Hard Candy
---
Album artwork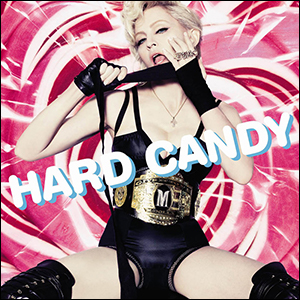 Album cover, shot by Steven Klein
Art work by Giovanni Bianco

Album tracklist
Single releases
4 Minutes - March 2008 (Digital) / April 2008 (Physical - UK) / April 2008 (Physical - US)
Give It 2 Me - July 2008 (Physical - UK) / Aug. (Physical - US)
Miles Away - Nov. 2008 (Physical - UK) / Dec. 2008 (Physical - US)
Outtakes & Demo tracks

Across The Sky


Animal


Infinity


Pala Tute


Ring My Bell


The Beat Is So Crazy

Album production & release
"I'm going to kick your ass, but it's going to make you feel good". That's how Madonna introduced her 11th studio album Hard Candy. "The title is a juxtaposition of tough and sweetness... And of course I love candy!"
After her successful future disco record Confessions On A Dance Floor, she teamed up with some of the biggest names in today's hip hop scene: Pharrell Williams, Justin Timberlake, Timbaland & Danja.
"I think Pharrell is a natural musician. I like his inventiveness - he would grab my acoustic guitar, which he couldn't play, but start playing percussion on it. He would find bottles and start playing them with spoons. [...] I can totally relate to Justin as a songwriter. We would sit down together and say OK, let's come up with a concept. What story do we want to tell? We would riff off to each other and play woth words. He likes to play with words and the rhythm of words and so do I. [...] I felt more introspective because I was writing with Pharrell and Justin. On Confessions, I just wanted to make a frivolous dance record, but with this one I had to dig deeper and go to a different place... For me, it's a true collaboration, intellectually and artistically."
Madonna named Justin's second album FutureSex/LoveSounds as her main inspiration, which was produced by Timbaland & Danja.
The record was released worldwide on April 28, 2008 (some regions received it on the 25th or the 29th). It is her last studio album released under Warner Bros. Records. A special edition of the album was released at the same time and the Japanese version contains a bonus track called Ring My Bell, which was also available for fans who pre-ordered the album on iTunes.
Singles
The lead-off single is 4 Minutes, which is a duet with Justin and was produced by Timbaland. The opening track Candy Shop, which was the inspiration behind the album title and leaked on the Internet in 2007 already, is one of Madonna's personal favorites. An early version of Beat Goes On also leaked but was later reworked, including a rap by Kanye West. 4 Minutes hit #1 pretty much everywhere, became Madonna's record breaking 37th Top 10 hit on the US Billboard Hot 100 and was certified double Platinum in August 2008 for 2 million paid downloads. The second single is Give It 2 Me, produced by The Neptunes, which hit big in Europe. Third and final single is the beautiful ballad Miles Away, which was a moderate hit around continental Europe and became the best selling digital single of 2008 in Japan.
Sales & Charts
Hard Candy immediately became a huge success all around the world, reaching #1 in 27 countries, including Australia, France, Germany, Italy, Japan, UK and US. It debuted on the US Billboard 200 with 280,000 copies and became her 7th US #1 album, while in the UK Madonna simultaneously topped the albums and singles charts for the 4th time in her career, which is unmatched by any other female artist.
Hard Candy is Madonna's 10th #1 album in the UK, the most among female artists. In the US, Hard Candy was certified Gold in June 2008 and its hard sales already passed 700,000 copies, while it reached Platinum in the UK (more than 300,000 copies sold). Worldwide sales are well above 3 million, which put it among the top 10 best selling albums of 2008.
↑ Back to top of page