W.E.
---
Movie artwork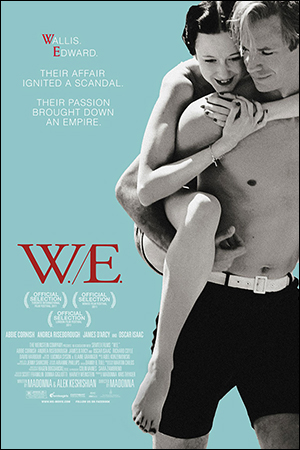 Pictures
Cast

Abbie Cornish: Wally Winthrop


Andrea Riseborough: Wallis Simpson


James D'Arcy: King Edward VIII


Oscar Isaac: Evgeni


David Harbour: Ernest


James Fox: King George V


Judy Parfitt: Queen Mary


Haluk Bilginer: Al Fayed


Geoffrey Palmer: Stanley Baldwin


Natalie Dormer: Elizabeth Bowes-Lyon


Laurence Fox: Bertie
Movie info
After directing the shortfilm Filth and Wisdom, Madonna tried her hand in directing this costume drama about King Edward VIII and his relationship with American divorcee Wallis Simpson, a relationship that cost him the throne.
Movie synopsis
W.E tells the story of two fragile but determined women - Wally Winthrop (Abbie Cornish) and Wallis Simpson - separated by more than six decades. In 1998, lonely New Yorker Winthrop is obsessed with what she perceives as the ultimate love story: King Edward VIII's abdication of the British throne for the woman he loved, American divorcee Wallis Simpson. But Winthrop's research, including several visits to the Sotheby's auction of the Windsor Estate, reveals that the couple's life together was not as perfect as she thought. Weaving back and forth in time, the film intertwines Wally's journey of discovery in New York with the story of Wallis (Andrea Riseborough) and Edward (James D'Arcy), from the glamorous early days of their romance to the slow unraveling of their lives in the decades that followed. (source: ONTD)
Production info

Directed by: Madonna


Written by: Alek Keshishian, Madonna


Produced by: Colin Vaines, Kris Thykier, Nigel Wooll


Production company: Semtex Films


Locations: France, UK, NYC


Date of filming: July - Sep. 2010
Release info

Released as: W.E.


Premiere: Venice Film Festival (Sep. 1, 2011); Toronto Film Festival (Sep. 12, 2011)


Release in theatres: Dec. 9, 2011 (US); Jan.-March 2012 (Eur.)


Runtime: 115 min.


Genre: Comedy / Romance
Trivia

Vera Farmiga and Ewan McGregor were originally cast respectively for the roles of Duchess Wallis Simpson and King Edward VIII, but backed out early. Amy Adams was also considered for the role of Simpson but in the end, the part went to Andrea Riseborough.
Awards
2012 Golden Globe Awards:


Award for Best Original Song (Masterpiece)


Nomination for Best Original Score (Abel Korzeniowski)
2012 Academy Awards (Oscars):


Nomination for Best Costume Design (Arianne Phillips)
Soundtrack

The soundtrack is composed by Abel Korzeniowski. It also contains the ballad Masterpiece, written and sung by Madonna and produced by William Orbit.
↑ Back to top of page