I'm Going To Tell You A Secret
---
Album artwork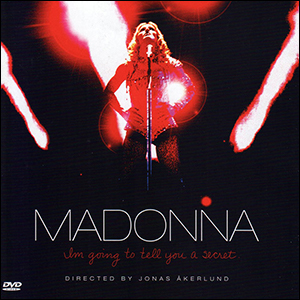 Album cover, shot by Guy Oseary

Album tracklist
Confessions
Album release
Madonna's first ever live album was released on June 20, 2006, called I'm Going To Tell You A Secret. It is actually a bonus disc for the DVD release of the documentary that chronicles her 2004 Re-Invention Tour.
The CD features roughly half of the acclaimed live trek, including classics such as Vogue, Like A Prayer or Holiday, but mostly focusing on 2003's American Life. Also included is the cover of John Lennon's Imagine, which was performed at every show of the tour.
The 14th song on the album is the bonus track I Love New York: this was recorded for her next studio album. It wasn't performed on tour but it appeared in the documentary and it sounds quite different from the version released in 2005.
Sales & Charts
The set reached top 10 position (on either the album or DVD charts) in several countries, including Australia, Belgium, Canada, France, Germany, Hungary and Italy (it peaked at #18 in the UK and at #33 in the US). It has sold approximately 500,000 copies worldwide.
↑ Back to top of page