Re-Invention Tour
---
Tour poster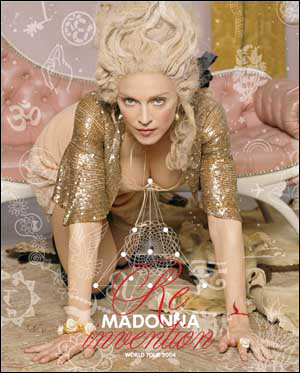 Galleries


Costume designs


Tour book


Tour pictures North America: Los Angeles - New York City - Sunrise


Tour pictures Europe: Arnhem - Paris
Tour schedule
While the schedule of the Re-Invention Tour was more extensive than the Drowned World Tour, it still concentrated only on North America and Europe. Kicking off in Los Angeles on May 24, 2003 the tour consisted of 56 shows, mostly at indoor arendas, in 7 countries. After it wrapped up, the tour was named as the highest grossing tour of 2004, earning $125 million.
→ Check out the full tour schedule here
Tour setlist
The name of the tour was supposedly Guy Ritchie's suggestion, while several other rumoured titles circled online, including 'Whore Of Babylon', 'Ground 0' or 'Nobody Knows Me'. While the tour promoted her latest album American Life, there were more hits included than the previous Drowned World Tour, according to Madonna to 'redress the balance'.
→ Check out the full setlist here
Tour diary & reviews
Throughout the tour, we kept a tour diary with specific details for each show:
North America - Europe
We also saved some press reviews to give you an idea how the show was received by critics:
North America - Europe
Tour crew & collaborators
We recognize many crew and band members from previous tours. In the documentary I'm Going To Tell You A Secret, we get to know the dancers a bit better. Costumes for this tour were designed by Stella McCartney, Karl Lagerfeld, Christian LaCroix and Arianne Phillips.
→ Check out the full crew here
Tour recording
The final shows in Lisbon, Portugal were planned to be recorded by Hamish Hamilton for a DVD release. However, due to a dispute between him and Madonna, this recording never happened and he filed a lawsuit against her. This also explains why the show was never broadcast on TV. There's some footage of the Lisbon show, shot by Christian Lamb, but this was mainly meant for the venue screens and is not sufficient for a DVD release. This recording later surfaced on the Internet and is likely the only full version we'll ever get to see. The I'm Going To Tell You A Secret documentary includes tour footage by Jonas Åkerlund, mostly from the show in Paris, France.
Awards
2004 Billboard Touring Awards:


Award for Top Tour (highest-grossing)


Award for Top Manager (Caresse Henry)
2004 Pollstar Awards:


Nomination for Major Tour of the Year


Nomination for Most Creative Stage Production
↑ Back to top of page