MDNA Tour
---
Tour poster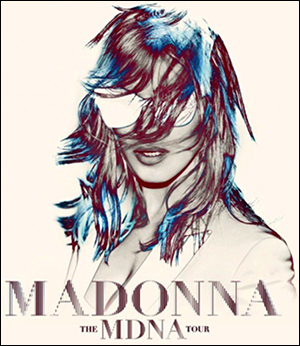 Galleries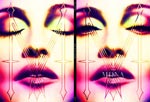 Costume designs


Tour book


Tour pictures from rehearsals and from Moment Factory


Tour pictures Middle East: Abu Dhabi - Istanbul - Tel Aviv


Tour pictures Europe: Amsterdam - Barcelona - Berlin - Brussels - Copenhagen - Florence - Gothenburg - London - Paris - Rome - St. Petersburg


Tour pictures North America: Philadelphia
Tour schedule
The MDNA Tour lasted a massive 7 months, performing 88 stadium shows (her most ever) in 29 countries across the Middle East, Europe, North America and South America. Plans for an Australian tour once again failed. The tour visited some new territories in the UAE, Ukraine, and Colombia.
→ Check out the full tour schedule here.
Tour setlist
Strangely, the tour initially didn't have a name. The press announcement spoke about 'The Madonna Tour'. Once the tickets went on sale, the name 'MDNA Tour' started appearing. The setlist promoted her latest album MDNA. Some classics, such as Open Your Heart and Papa Don't Preach made their long-awaited comeback. Express Yourself was mixed with a few lines of the "reductive" 'Born This Way', which stirred some controversy.
→ Check out the full setlist here.
Tour diary & reviews
Throughout the tour, we kept a tour diary with specific details for each show:
Middle East - Europe - North America - South America
We also saved some press reviews to give you an idea how the show was received by critics:
Middle East - Europe - North America
Tour crew & collaborators
Once again, a massive list of crew members and collaborators worked on this tour. No less than 24 dancers and 16 choreographers were hired, including several from previous tours. Also the costume department was filled with a lot of talent, including Gaultier, Arianne Phillips and Jeremy Scott.
→ Check out the full crew here.
Tour recording

Colombia was the first choice to film the show, but due to director's conflicts, it were the Miami shows on Nov. 19 and 20 instead that were recorded by Stéphane Sennour and Danny Tull. The concert special was first broadcast on Epix on June 22, 2013. The release of the video album 'MDNA World Tour' on DVD and Blu-ray followed on Sep. 6, 2013. The accompanying live album contained all tracks of the concert. In the Music DVD charts, it hit #1 in Australia, Austria, Belgium, Brazil, Denmark, Finland, France, Italy, the Netherlands, Portugal, Spain, Sweden, Switzerland, UK and US. It was Madonna's 10th video to top Billboard's Top Music Videos chart, the most for any artist.
Awards
The MDNA tour was the highest grossing tour in 2012.
2013 Billboard Music Awards:


Award for Top Touring Artist

2012 Pollstar Awards:


Nomination for Most Creative Stage Production
↑ Back to top of page